Dachshund (Wire Haired)
General Information - Dachshund (Wire Haired)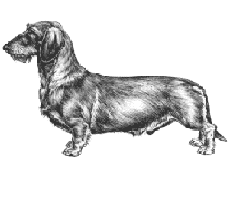 Group:
Hound
Size:
medium
Lifespan:
12-14 years
Exercise:
low
Grooming:
medium
Trainability:
medium
Watchdog ability:
very high
Protection ability:
low
Area of Origin:
Germany
Date of Origin:
1500s
Other Names:
Teckel
Original Function:
flushing badgers
---
History
The Dachshund has a strong mix of both Hound and Terrier characteristics: he has a strong sense of smell, a loud voice and he also has the built-in instinct to search out vermin and rodents. In Germany, where the breed has existed since the early 1600's, the dog was named Dachshund which means "badger dog" and historians believe the original smooth variety evolved from the French Basset. Later on, crosses with Field Spaniels created the longhaired type and crosses with terriers created the wirehaired types. Miniature versions of all three coat varieties were then developed by breeding only the smallest specimens from subsequent litters. The Dachshund enjoys family life in the country or the city. The combination of excellent tracking abilities and short, compact yet muscular body made the Dachshund an obvious choice for game which liked to burrow or hide in dense thickets.
Temperament
The Dachshund is intelligent, energetic and brave beyond his means. They make lively, friendly, loyal family pets.
Upkeep
Although Dachshunds are active, their exercise requirements can be met with moderate walks on leash and games in the yard. The Dachshund is amenable to city life or apartment living, but it is still a hunter at heart and enjoys forays into the wilds. Although it can live outdoors in warm weather, it does best when sleeping inside. The wire coat requires brushing or combing about once a week, with occasional trimming of stray hairs and stripping to remove dead hair twice a year.