Dobermann
General Information - Dobermann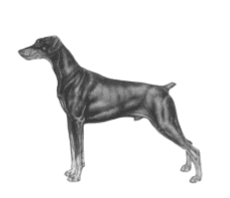 Group:
Utility
Size:
large
Lifespan:
10-12 years
Exercise:
medium
Grooming:
very low
Trainability:
very high
Watchdog ability:
very high
Protection ability:
very high
Area of Origin:
Germany
Date of Origin:
1800s
Other Names:
Dobermann Pinscher
Original Function:
guardian
---
History
The Dobermann is named after its creator Louis Dobermann. Dobermann was a German tax collector who also ran the local animal shelter in his area. A skilled breeder, he set out to create a medium-sized working dog that would accompany and protect him during the day on his travels. Most educated guesses suggest that crosses of the Rottweiler, the German Pinscher, the Manchester terrier and perhaps the Greyhound were used to perfect the breed by 1899. At first the breed was unpopular with most dog fanciers but did catch the eye of those interested in a medium-sized security dog. Further refinements were made and the breed was officially recognised in Germany and then shortly after in America in 1908. Americans are credited with developing the handsome and reliable Doberman we know today. The breed thrives well in both city and country if he is provided with daily exercise.
Temperament
The Dobermann is a highly energetic, intelligent dog breed. Initially suspicious of strangers, the Dobermann is a capable watchdog. Loyal, adventurous, likes a mental challenge. The Dobermann can be domineering.
Upkeep
This is an active breed that needs daily mental and physical exercise, least it becomes frustrated or destructive. Its exercise requirements can be met with a long jog or walk on leash, or a strenuous run in a safe area. The Dobermann can live outside in temperate climates, but it is a much better companion and effective guardian if it shares its human's home. Coat care is minimal.