Hamiltonstovare
General Information - Hamiltonstovare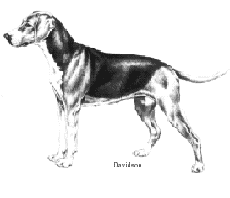 Group:
Hound
Size:
large
Lifespan:
10-13 years
Exercise:
high
Grooming:
low
Trainability:
medium
Watchdog ability:
high
Protection ability:
low
Area of Origin:
Sweden
Date of Origin:
1500s
Other Names:
Hamilton Hound, Swedish Foxhound
Original Function:
Coursing hares and foxes
---
History
The Hamiltonstövare, also known as the Hamilton Hound and originally known as the Swedish Foxhound (in Britain), originated in Sweden and was named after Count Adolf Hamilton, the founder of the Swedish Kennel Club. This hound dates back to dogs from the 15-16th centuries, descended from Swiss, English, and East European hounds; it was developed by Hamilton to hunt fox and rabbit, which it does singly, with very focused determination in all kinds of terrain and in all types of weather. It was originally only found in Sweden and shown there first in 1886; however it has now become quite popular in Great Britain, while remaining very rare in the rest of the world. The first Hamiltonstövare were imported into New Zealand in 1996 from Britain, and are still amongst the rarest breeds in the country.
Temperament
The Hamiltonstövare is an energetic dog that displays courage. It will need regular exercise. They are bred to hunt and so they are inclined to wander if not under supervision, so a fenced garden is essential (as with any dog). They are an excellent dog to bring children up with, as they as full of fun, while still being very patient. They become very devoted to their family and will defend them if they need to, but they lack the aggression to be considered as a guard dog.
Upkeep
The Hamiltonstövare needs daily exercise, preferably in the form of a long walk or jog. If allowed to run off leash, it should only do so in a safe, enclosed area. They are highly sociable, and should never be expected to live alone. The coat is easily maintained, requiring only occasional brushing to remove dead hair.