Staffordshire Bull Terrier
General Information - Staffordshire Bull Terrier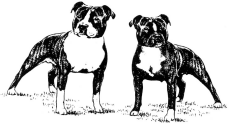 Group:
Terrier
Size:
Medium
Lifespan:
13 years average expectancy
Exercise:
Flexible
Grooming:
Low
Trainability:
Excellent
Watchdog ability:
Low
Protection ability:
Moderate
Area of Origin:
England
Date of Origin:
1935
Other Names:
none
Original Function:
Family Pet & Show
---
History
The Staffordshire Bull Terrier was developed in the United Kingdom from its ancestor the Bull and Terrier and created as a show breed in 1935. At that time the owners asked the Kennel Club to approve the name of "Original Bull Terrier" (the Bull Terrier having snaffled the name first by turning to the show ring many years earlier). This was turned down and so the breed was named after the public house in which the meetings to create the breed standard were taking place. Had they used the pub 200 yards down the road it would have been called the Worcestershire Bull Terrier. I.e. there is no particular relationship to Staffordshire although this was a popular area for the type of dog that became the Staffordshire Bull Terrier.
Temperament
The Staffordshire Bull Terrier appeared in the top 10 breeds MOST suitable for families and especially children in a report researched and published by Southampton University in 1996. This breed is highly intelligent, eager to please and very people friendly. It has a special empathy with children and it is for this it is best known. It adapts readily to most situations making it the foremost all purpose dog. Staffordshire Bull Terrier puppies are very easy to house train.
Upkeep
Some members of this breed certainly have energy to burn. This energy can be satisfied by throwing a ball in the garden, walks in the fields or just whatever the owner chooses. Although the Stafford is capable of living outdoors in mild weather, it can be affected by cold and, more importantly, it is a dog that craves human contact: thus, it is far better suited as a housedog. Coat care is minimal.