Alaskan Malamute
General Information - Alaskan Malamute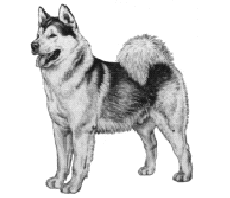 Group:
Utility
Size:
large
Lifespan:
10-12 years
Exercise:
high
Grooming:
medium
Trainability:
very low
Watchdog ability:
medium
Protection ability:
medium
Area of Origin:
Alaska
Date of Origin:
ancient times
Other Names:
none
Original Function:
heavy sled pulling, large game hunting
---
History
Native to the northern regions of the Western hemisphere, this member of the Spitz family was originally bred by a tribe of Inuit, the Mahlemuts. The Malamutes were all-purpose dogs and performed tasks such as hauling sleds in winter, carrying packs of freight in summer, guarding herds of caribou and hunting polar bear, moose or wolves. In camp, the dogs were loyal family pets that watched over and kept children warm during long winter nights. Ideally suited to ice and cold weather, this breed has also adapted well to more temperate climates.
Temperament
This is an affectionate, loving and loyal family dog not suited to guard work. Confident and strong-willed, they tend to be very dominant and require early obedience training. They are energetic, playful and friendly, but, as with all large breeds, require supervision at play with small children.
Upkeep
The Alaskan Malamute loves cold weather and especially loves to haul a sled through the snow. It can run for miles and needs to have adequate exercise every day, either in the form of a long walk on leash or the opportunity to run or mush. It can live outdoors in temperate to cold climates, but it does better inside during warm weather. Its coat needs brushing once or twice a week - more often when shedding.