Bavarian Mountain Scent Hound
General Information - Bavarian Mountain Scent Hound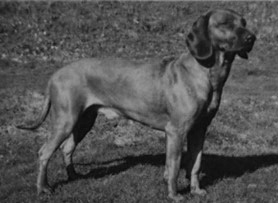 Group:
Hound
Size:
-
Lifespan:
-
Exercise:
-
Grooming:
-
Trainability:
-
Watchdog Ability:
-
Protection Ability:
-
Area of Origin:
-
Date of Origin:
-
Other Names:
-
Original Function:
-
---
History
All Liam Hounds (Leithunde) and Leashhounds (Schweisshunde) are descended from the original hunting dogs, the "Bracken". All pure "Bracken" have the finest nose for following ground scent and trail; they are firm on scent, have a strongly developed will to follow a trail and are readily giving tongue on scent.
Only the most reliable and perseverant Bracken were chosen from the pack to be used on the leash to search for the lost trail of the hunted game. From those most calm and biddable Bracken, the Liam Hounds (Leithunde, working only on natural, cold scent) and the "Scent Hounds" (Schweisshunde, the so called "spoilt Liam Hounds", working the trial of wounded game) were later bred.
Through crossing of genetically fairly close breeds at the end of the 18th and beginning of the 19th century, the present day Hanoverian Scenthound evolved.
After the Revolution in 1848, in fact, after the break-up of the large hunting estates and the replacement of the previous hunting methods by stalking and hiding (waiting for the game) and at the same time with the improvement of the firearms, the dog was needed "after the shot".
Specialized in firmly working on the leash, one could not dispense with the loud chase, perseverance and keenness, especially in mountain regions. There the Hanovarian Scenthound proved too heavy.
To achieve the desired accomplishments, even in difficult mountain territory, Baron Karg-Bebenburg, Reichenhall, bred the racy and ennobled lighter Mountain Scenthound after 1870, by crossing Hanovarian Scenthounds and red Mountain Scenthounds. More and more these dogs ousted other breeds from the mountain regions so that the Bavarian Mountain Scenthound is, today, the classical companion for the professional hunter and gamekeeper.
In 1912 the Club for Bavarian Mountain Scenthounds was founded with its seat in Munich. It is the only recognized Club for Bavarian Mountain Scenthounds in Germany.