Labrador Retriever
General Information - Labrador Retriever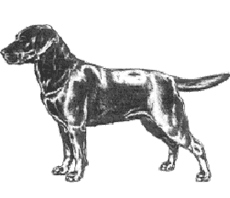 Group:
gundog
Size:
large
Lifespan:
10-12 years
Exercise:
medium
Grooming:
low
Trainability:
very high
Watchdog ability:
high
Protection ability:
low
Area of Origin:
Canada
Date of Origin:
1800s
Other Names:
Yellow Retriever
Original Function:
Water retrieving
---
History
Once known as the St John's Dogs, the Labrador Retriever is one of the most popular breeds in the United States. Originally from Newfoundland, Canada the Labrador was trained to jump overboard into the icy waters to haul fisherman's nets to shore. These dogs had been known variously as the Black Water Dog, the Lesser Newfoundland, or the St John's Dog; they were descendants of dogs taken there by explorers, settlers and fishing crews. The dogs, found to have excellent hunting and fishing abilities, were brought to England early in the 1800s where their "modern" development carried on. Crossed with other local sporting breeds, the strong and sturdy Lab became, and continues to be, England's most popular gundog. This breed excels in obedience and field trials, needs plenty of outdoor exercise and especially enjoys swimming.
Temperament
The Labrador Retriever is a kindly, outgoing dog breed. The Lab's easy-going and friendly manner makes him an excellent addition to families with children. The Labrador Retriever is easy to train and, by nature, is a true sporting dog. Labs love swimming and will play fetch in the water for as long as you will!
Upkeep
Labradors are active and sociable dogs. They need daily exercise, preferably in the form of retrieving and swimming. Owners with swimming pools either must fence them out or be prepared to share the pool with dog. The Lab coat sheds water easily. It needs weekly brushing to remove dead hair. Although Labs can live outdoors in temperate climates, they are much happier indoors with their family.