Tibetan Terrier
General Information - Tibetan Terrier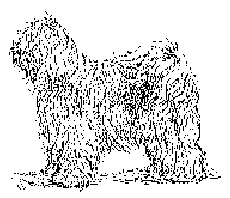 Group:
Non Sporting
Size:
Medium
Lifespan:
12-15 years
Exercise:
Medium
Grooming:
High
Trainability:
Medium
Watchdog Ability:
High
Protection Ability:
Very low
Area of Origin:
Tibet
Date of Origin:
Ancient times
Other Names:
Dhokhi Apso
Original Function:
Herder, good luck charm, companion
---
History
The Tibetan Terrier, also known as the Dhokhi Apso, is an ancient breed that dates back to the Middle Ages. It originates from the rugged terrain and climate of Tibet where it was used to herd stock and to guard, amongst other duties, but not as a Terrier. It was kept by the monks as well in monasteries and considered a treasured gift. It is one of the relatives of the Lhasa Apso, the Shih Tzu, and the Tibetan Spaniel. The breed was first introduced to Europe in the 1930s where it became a companion dog.
Temperament
This little companion dog loves people. Tibetan Terriers are lively and outgoing and were once kept and treasured in Tibetan monasteries. Affectionate and lively, the friendly Tibetan Terrier dog breed is somewhat reserved around strangers. A Tibetan Terrier's bark is unique in the way it raises in pitch and volume as it continues to bark.
Upkeep
The Tibetan Terrier likes to run and explore, and needs daily exercise in a safe area. Its needs can also be met by a vigorous game in the yard or a moderately long walk on leash. Although capable of living outdoors in temperate or modestly cool climates, it is better as an indoor, or indoor/outdoor, dog. Its long coat needs thorough brushing or combing once or twice a week.