Titahi Bay Canine Obedience Club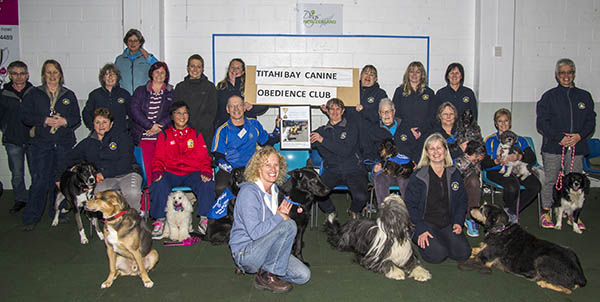 Best Dog Training Club in New Zealand
At the inaugural New Zealand Domestic Dog Training Conference the Titahi Bay Canine Obedience Club was honoured to receive the award for 2017 Best Domestic Dog Training Club. The club has been going for almost 50 years, and have been training all breeds of dogs from Puppies through to dogs of any age.
They have a range of classes including Canine Good CitizenTM related courses, rally-o and competitive obedience. They run competition obedience shows, ribbon trials, rally-o competitions, Canine Good CitizenTM assessments, lend their grounds to other dog clubs and visit local school galas.
The club trains at their training grounds at Ngatitoa Domain in Paremata and also hires the Dogs New Zealand facilities in Elsdon during the winter terms. They have members from Wellington central to Waikanae and even some come from the Hutt.
Clubs throughout New Zealand were asked to fill in a questionnaire about all the aspects of making a successful club and they were chosen out of some very tough competition.
The club has a great committee, trainers and members that get along really well because they are all there for one reason - for the love of dogs.
This term Titahi Bay Canine Obedience Club has 114 dogs attending classes.
Dogs New Zealand would like to think that this club not only benefits those people who come to them to get a well-mannered dog but also everyone they will meet when they go out walking in our community.